Summer Essentials Plan
The Summer Essentials Sew Along will be starting up in a few short days. I'm trying to hammer out a plan. Here's what I've got so far.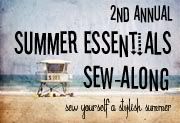 Poolside Pretties: Anything that cools or dries you off when there's lots of sun and water around. One and two-piece swimsuits, swimsuit cover-ups, surf shorts, sun hats, oh my!
I have a nice swimsuit, so I don't think I'll be sewing anything from this category, although a sun hat might be fun!
---
Clam Diggers & Co.: Bifurcated bottoms of every style and length, from flowing linen pants to short-shorts and all the inbetweens—clam diggers, pedal pushers, Bermuda shorts, etc.
I've already started working on black twill capris, using Burda 7656. These will double as a project for Close the Gaps.
---
Sweet & Sassy Skirts: Prints and solids, short and long, low-slung and high-waisted. But most of all: Airy, flirty, flattering.
Another Close the Gaps project will work here as well. I have some truly lovely navy linen which I'm prepping for Simplicity 2698. I also have some black gabardine slated for this, but I think that will be more suited to cooler months.
---
The Sundress: Need I say more? To me, the perfect sun dress strikes that cord between casual and elegant—arms and collarbones, looking good barefoot or high-heeled. It's something you can wear to both a barbecue and a summer wedding. A summer staple I've never owned until now.
Hmmm…I don't wear a lot of dresses, so this is tough for me. Last summer, I tried sewing Simplicity 2886, but something happened to it…I can't quite remember what it was. Perhaps the fabric around the zipper got stretched out? It was something like that. In any case, I have been meaning to give this another shot.
---
Tees, Tunics & Blouses: Yes, please! I'm finally understanding the worth of blouses as they also strike that balance between casual/formal, totally versatile. I'm also thinking mini-dresses that do triple duty as tunics, dresses and cover-ups.
I have been daydreaming about many tops recently. The Butterick batwing top is near the top of my list. I'll probably use some paint-splatter jersey I found at Joann's, instead of the pink fuzzy stuff I was considering.
I'd also like to make more blouses–two of my recent creations haven't been true successes (the yellow wrap doesn't fit right and the floral draw-string had the headlights issue), but the process was fun and the end results can be fabulous (like my white blouse, which I love!).
I have also cut out the Ellinor tunic from BurdaStyle and am looking forward to getting started on that.
---
Those Summer Nights: Pullovers, cardis and hoodies may be the last thing you're thinking of with the mercury rising, but there's those cool summer nights, not to mention every last establishment with the air con blasting. Or: for those of you where thunderstorms are a daily summer experience, a lightweight trench?
I'm considering using the textured pink knit I have to make a cardi/vest using Simplicity 2560.
---
Accessorize Me!: Big floppy hats, beach totes, embellished flip flops, handmade jewellery, or other pretty things that snazzy up your accessories are a great fit.
I've discovered that I really like making and wearing necklaces and earrings, so I hope to cobble a few together. Here are a couple of pieces I find inspiring:
Pieces from fusionbeads.com
Tags: